Hotels vs. Serviced Apartments
Not only are serviced apartments usually cheaper than hotels, but the rates generally decrease the longer you stay. You'll also always get more space, more freedom and more privacy than in a hotel room!
Here's an example of how hotels and serviced apartments compare in size and layout.
Typical Hotel Room (left)
Typical Studio Room (Right)
Parc y Bryn Serviced Apartments (Bottom)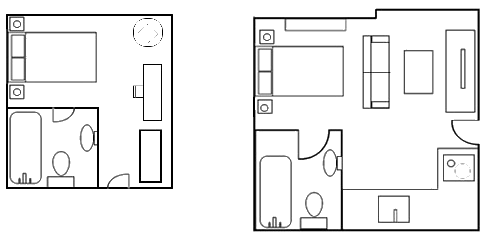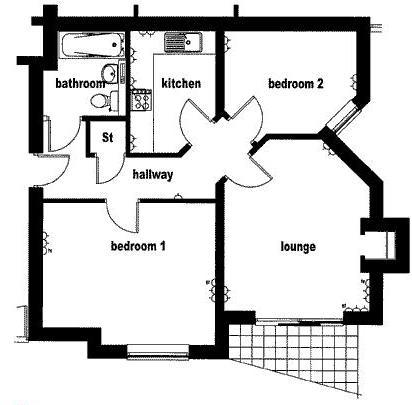 Why choose a serviced apartment?
The inherent flexibility of a serviced apartment or apart-hotel means you do not have to compromise on any level. Stay in and entertain your guests from a fully equipped kitchen, relax after a long day of meetings, take advantage of the surrounding nightlife - the choice is yours. Often more affordable than a hotel and the value of having your own space is priceless along with the added benefit of
privacy and independence
- forget bustling hotel receptions, noisy bars and crowded restaurants and opt for your own front door.
Whether it's for a week away with your family or friends, or to to accommodate one individual in a short-stay business let, Parc y Bryn has a serviced accommodation solution to meet your needs. Our dedicated team deliver nothing less than service excellence - from meticulous standards of housekeeping, through to a streamlined reservations process. It's hassle free.
The benefits of serviced apartments includes more space and privacy, convenience when traveling with a family, and the cost savings associated with cooking your own meals in the apartment.
The Parc Y Bryn Development occupies a breathtaking hillside aspect, offering spectacular views across Cardigan Bay and the Irish sea. The ultimate in sophisticated, sleek, modern living, a perfect compliment to the vibrant, bustling historical University town of Aberystwyth.
What better way to relax at home than with a cinematic panorama of a twinkling townscape after dark, the moon shimmering romantically over a tireless sea and all the comforts that make Parc y Bryn a special home.